---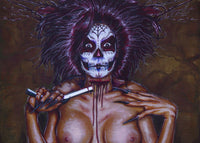 Wrath is the second of my 8 Deadly Sins. Each Sin is an aspect of humanity taken to destructive extreme. Wrath is that anger which consumes all and fills the vision with mindless red. She is rage with a razor edge of vindictiveness; the child of Fury and Spite. Her destructive vengeance is legendary and she will destroy even herself in the flames of her acrimony. This work was created in collaboration with Tommy Pemberton, with hair by Karla Mora and our model is the frighteningly talented Catrina.
Giclee canvas spec: Traditionally-Stretched Canvas Wraps are printed on artist grade cotton/polyester canvas material and constructed around a full hardwood frame from Raleigh, North Carolina. Canvases are hand-stapled with care, so they still have the tightest corners available. Hanging is a snap with the pre-installed hardware and hanging kit that comes with each canvas. 11"x14" canvas are .75" thick, all other sizes are 1.5" thick. Printed and stretched as ordered, please allow 3-5 days production before shipping. 

Paper Prints spec: All paper prints will come on Fujicolor Professional Paper featuring a lustre finish. Printed as ordered, please allow 1-2 days production before shipping. 
Vinyl Sticker spec: Car wrap grade vinyl sticker with laminated coating to protect against wear. Limited to stock on hand, but usually next day shipping.